Hello – we hope you are well. Thanks for being here.
We are working on an experimental project to map and connect people having conversations in the 'Systems and Culture Change' domain.
The covid-19 crisis is stirring up lots of energy about our new normals in many conversations on different platforms. We want to help with system change by connecting everyone we meet and converse with, so that they can make meaningful, and more, connections, and hopefully impact.
We are in a fair number of these conversations ourselves, and have lots of enthusiasm and contacts.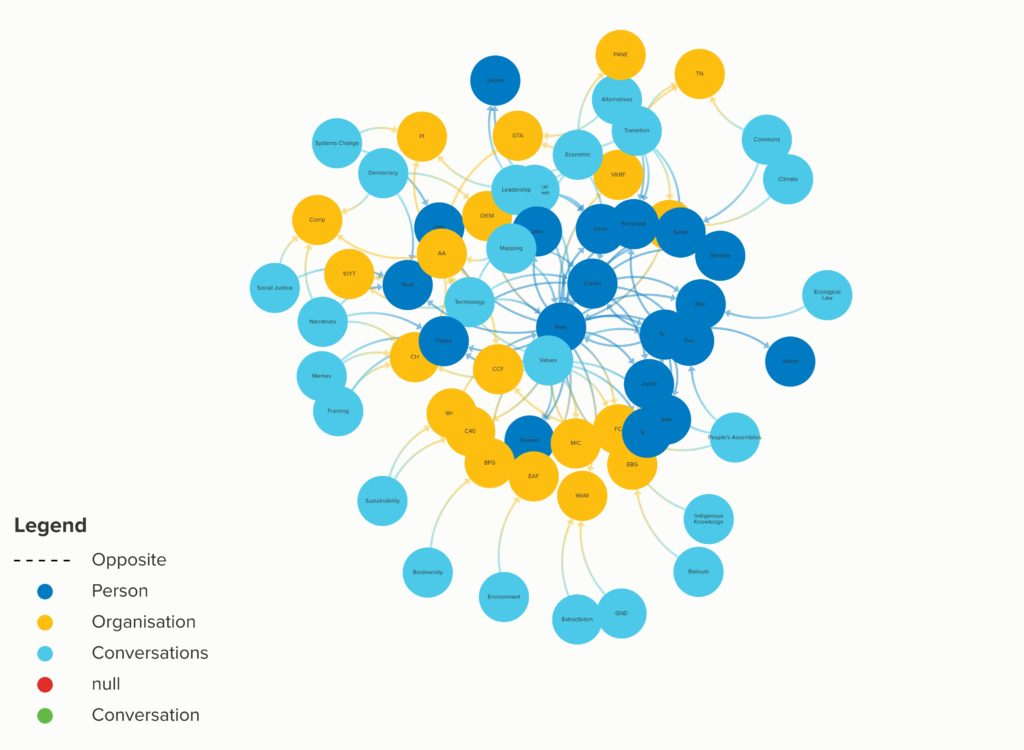 Our experience of 'networking' projects is limited and we are looking for advice.
If you have advice to share
Conversations Mapping Project
We are exploring how to set up a 'social network visualisation graph meets topic mapping' tool that can visually map and reveal people and organisations having conversations about 'systems and culture change'.
The tool will, as simply and visually as possible, map conversations in ways that activists and change agents can find people and organisations across silos having similar conversations to better align action and collaborate to catalyse change.
Our plan is to set up a prototype using a rapidly deployable SAAS product (tbd) and our initially small dataset of People, Organisations, Conversations, and Tags. If the prototype looks useful, we'll proceed…
Statements
We are seeing overlap-able conversations about systems and culture change between different people and organisations
We want to enable the development of relationships between the people
We want to map them because there is great potential in them being in relationship
We will use a taxonomy made of tags to filter, link and navigate between them
We want to be able to navigate by people and organisation and tags and conversation
We want to be able to see if people are in direct, or indirect relationship or not.
We will start with a working 'V1' set of tags which will form a 'V1' taxonomy to classify the conversations and organisations, and people
We will start small and simple, with a small dataset
What are we looking for?
Social Network Visualisation software for the prototype: in use, rapidly deployable, proven, supported
Examples of social network visualisation projects – particularly based on 'conversations' within specific subject domains – (extra points if they come with 'lessons learnt')
If anyone is doing this already we want to connect with them
Suggestions of social network visualisation software (rapidly deployable)
People who have done social network visualisation projects
Advice about our social network visualisation project
Who are we looking for?
Organisers who've done visual mapping projects
Developers who've used visual mapping software
Social scientists who've explored visual mapping
Software experts / providers with visual mapping software
Basically, experienced people who can help guide us
What are we offering?
For advice and experience, insight and wisdom, guidance and lessons learnt – at this prototype stage – we've got a lot of appreciations and respect for all advice shared.
For software – we have a small budget set aside for software if necessary 🙂
If you have advice to share